We Help Schools and Students with Education
The project Seznam se s médii works with primary and secondary school teachers who are provided the background for creation of comprehensive methodology applicable in practice to teaching media literacy. From September 2020, teachers from the whole Czech Republic may attend the academy to which they may register free of charge. During two days, they will get acquainted with designed modules and methodologies, with the principle of their teaching in their own lessons and the work of the editorial office of the news portal Seznam Zprávy.
I Want to Educate Myself Actively
If you would like to educate yourself in media literacy and learn to work with individual modules suitable for teaching media literacy in your lessons, register at our academy by completing the form.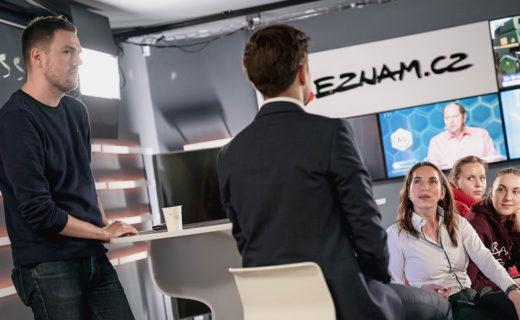 School Excursions
In case of interest, individual students and the entire classes may register for excursion and tour the editorial office of the news portal Seznam Zprávy. We will concurrently guide you through our Seznam's Prague headquarters and show you places where our services and products are being produced. In case of interest in excursion, please write to pomahame@firma.seznam.cz.